Sizing
There are only 2 size options – Child and Adult. Because of their adjustability, each size will fit a large range. Generally speaking, children ages 9 and below, and adults with petite faces, would be more suited for a child size mask.
Using the diagram below, you can get a general idea which size would be more appropriate.
Width (Red) –
Child: Up to 5 1/2 inches   Adult: Up to 6 1/2 inches
Height (Blue) –
Child: 3 – 4 1/2 inches   Adult: 4-5 1/2 inches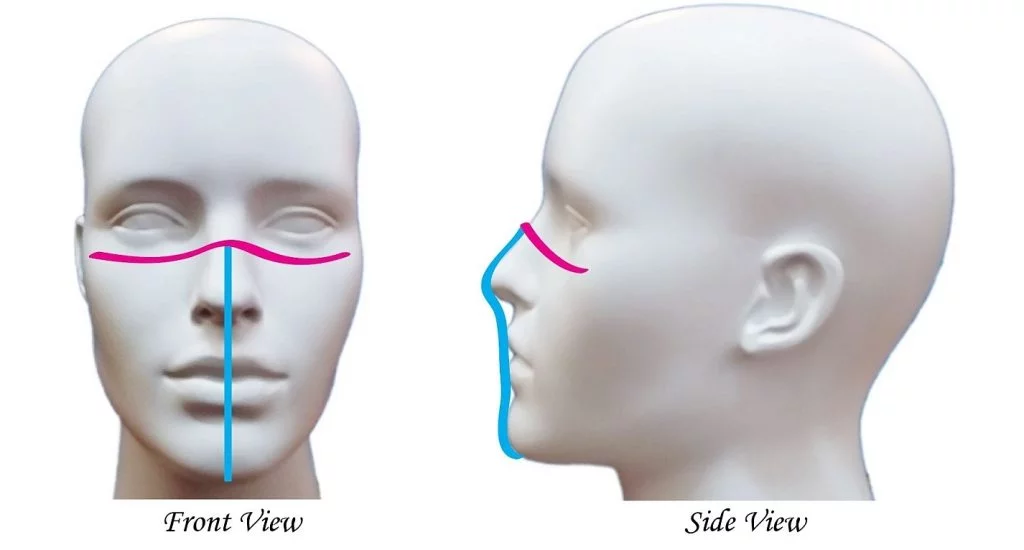 Fit
Position the mask on your face making sure the nose form is on the top edge. When centered, press the nose form against your nose for a snug fit and to eliminate fogging of glasses. Next, adjust each ear loop slide to a comfort position followed by a "fine tune" adjustment of the top and bottom of the loop. (Or elastic head straps which go over the head – Comfy Mask head strap version only). When you breathe in and the mask fabric "sucks in", you know you have a snug fit. You may wish to have someone mark the ear loops behind each slide once you achieve a snug fit. Many of our users then "knot" the ear loops on the marks just behind the slide to "lock in" your fit. (Elastic Head Strap versions are called "Comfy Mask", and require no fit adjustments. Elastic (non latex) head straps simply go over the head. This is only an option on some models).
Specs
Filter down to 1.0 microns and help to protect against pollen (6.0+ microns), mold spores (1.0+ microns), pet hair & dander (1.0+ microns), dust (1.0+ microns), bacteria (.35+ microns) and airborne effluents from sneezes & coughs that can contain cold and flu germs (4.0+microns). A 1.0 micron Latex Particle Challenge (PFE) testing revealed a 54% efficiency as tested by Nelson Labs
Treated with non-leaching, non-allergenic AEGIS® that is durable enough to withstand washings*
Plastic encased, stitched-in, Coneg Certified padded nose form to help "seal" the mask and prevent fogging of glasses
Hydrophobic/ hydrophilic lining that wicks and repels moisture away from the face
Non-latex elasticized sides to help assure a flexible good fit
Soft fabric ear-loops with an adjustable slide to provide a custom, comfort fit (no elastic cutting into your ears) OR
Non-latex elastic head strap option (select styles only – see dropdowns)
Washable – depending upon use, can last as long as your favorite t-shirt
Mask are a nylon/polyester/cotton blend.
Suitable for persons with latex allergies
Manufactured in the USA
*Aegis® by Microban is an antimicrobial that is applied to our fabric to protect it. By law, we are allowed to state this but we can not specifically refer to our products themselves as being antimicrobial.
Care
It is recommended that our masks be hand washed using a non-allergenic laundry detergent (not dish washing detergent as many contain natural or synthetic bleach that can fade the mask and possibly negate the anti-microbial action of Aegis). Masks should be allowed to air dry. Regarding our cold weather reversible fleece masks, also hand wash with a non-allergenic laundry detergent and allow to air dry.
How often should they be washed? That question depends on the frequency of use, type of use, and personal preference of the mask wearer. Dust masks used for long periods of time in very dusty environments may need to be washed daily. On the other hand, if the mask is used occasionally, and you dont see any accumulation of dust/debris on the liner, it may only require washing every month or so.
During hot weather, some prefer to wear the mask while damp for a cooling effect. To preserve the Aegis germ-fighting integrity, do not dry clean and avoid chlorine bleaches.